While driving west on I75 yesterday we decided to make a quick stop on one of the rest areas. It was so beautiful, peaceful and calm. I couldn't believe that the waters and marshes were infested with aligators and snakes and other creepy things, but luckily the state has done its best to put up fences to prevent the wildlife from coming onto the highway and the pitstops. Chantale was scared to get out of the car, so I took my phone and took some pictures. Below is the shot from pit stop.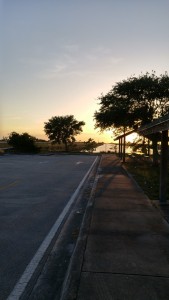 After our stop we got back on the highway. The sun was getting lower and lower with each minute on the highway. There are not too many highways that you can experience this on, but we found ourselves driving directly toward the sun set.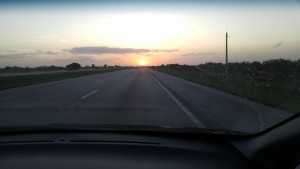 It looked as if we were driving directly into the sun. We felt like at the end of the road, there is a red ball that will lead us to another world. We were in the awe for a good 5 or 10 minutes. I took some additional photos.