Markus Benjamin Rozek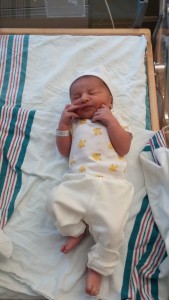 Markus is my son. From the moment that we found out that we are going to have a baby, our lives changed for the better. His innocence, constant smiles and happiness has given us the reason to forget all our problems and issues, and made the world a beautiful place.
Since my parents live in town, and my in-laws live in Ottawa, we decided that we want to tell our parents in person. Since it was just after Valentine's day that we found out, my wife came up with a brilliant idea of giving our parents a card that says "Happy Valentine's Day from your future grandchild." My parents got the card first, and they were both ecstatic. My mom was jumping up and down from joy. I thought that the whole house is going to collapse because she was so happy. 🙂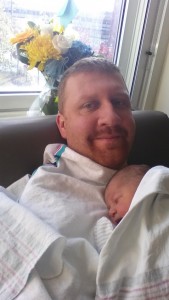 The following weekend we took a trip to Ottawa. Since giving my parents a Valentine's day card was such a success, we decided to do the same for my wife's parents. Her parents were in a bit of a shock when we gave them the card. Her dad could not believe that this is finally happening. I was really excited as well that we finally told them that they're going to be grandparents.
With time, my wife was progressing well in her pregnancy. After much discussion, we wanted our first born to be a surprise, so we had no idea if it was a boy or a girl until the day Markus was born. When the doctor presented Markus to us, we were both super happy, and since we picked a name before pregnancy, we already knew his name would be Markus Benjamin.
After we got home from the hospital, we were quite shocked. Since he was our first child, we were uncertain as to what to do with this new life. We managed though the first days, weeks and months. The parental instincts kicked in, yay! 🙂
Having kids is not an easy task, however it is extremely rewarding. I am so happy to be a father, and would not want to have things any other way. Every morning I wake up, see my son sleeping in his crib peacefully. I go to work, come home and when I walk in, my wife is usually taking care of Markus, however no matter what he's doing, every time she says:
Markus, look who came home! Tata is home!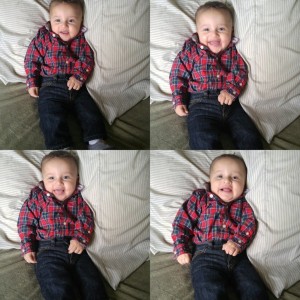 he looks up at me, and gives me the biggest smile. It is absolutely unbelievable what that smile can do to you. Whatever problems you may have, or if you have a bad day, and come home to a smile from an innocent child, you forget about everything, and just want to hug and kiss him.
You may be wondering about "Tata" ??? Well that is a word used to describe dad in Polish. We want our son to learn as many languages as possible, we are teaching him Polish as well.