Chantale Andrea Rozek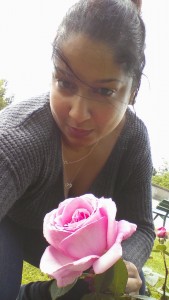 Chantale is my wife. Our story began when we started chatting online. From the very beginning of our chats, we could tell that we were looking for similar things in life, and we had similar favorite foods. After a few weeks of chatting online, we decided to meet up for sushi, since we are both sushi lovers. We met at Koganei Japanese Seafood  restaurant on 3901 York Regional Rd 7 #103 in Woodbridge. I remember this day till today. It was the hottest day of that summer. I had a hard time finding the place, and when I asked a local taxi driver where this place was, he was unable to tell me. I finally found it with Chantale's help, as we spoke on the phone and she gave me directions.
When I finally arrived, I parked my car, and walked up to Chantale's car with a beautiful red rose. I think she was really impressed that I brought her a flower on a first meeting. We proceeded inside, sat down and had a great meal, and an amazing conversation. After the meal, we were both stuffed, and decided to go across the street to Starbucks, and continued our conversation. Neither of us wanted to leave that evening as we had a great conversation.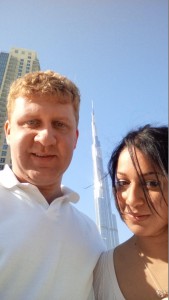 Our relationship progressed slowly, even though I wanted to move more quickly. With Chantale being an in-flight Service Director (a fancy title for supervisor flight attendant) she decided to take me to meet her family in Dubai in February 2014. It was a great adventure for me, as I've never been to the Middle East. We had a great time; we went dune bashing, to a dinner in the middle of the desert, to the Armani lounge on top of Burj Khalifa. It was so much fun, we had an amazing time together.
A few months later, in May 2014 I asked Chantale if we could take a trip to Paris, France. I wanted to see the Eiffel Tower, and meet up with my Godmother, whom I haven't seen since my childhood. Little did she know, I had another objective, which was to propose to her, sine a few weeks earlier I purchased an engagement ring for her.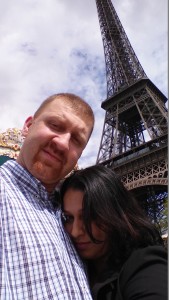 When we arrived to Paris, we got to the hotel, and my Godmother was already waiting for us to take us out to her place. We had a fantastic dinner in her very tiny apartment. After that I asked if we could go and see the Eiffel tower. Chantale was really tired, as she hasn't slept much on the plane ride there, but she forced herself to come with us. My Godmother decided that the best way for us to see the city was to take a boat on the Seine River. When we got there, a couple of North American tourist who just got off the boat walked up to us, and handed us their tickets for the boat. He advised us that the tickets are good all day, and that they're done with the tour; bonus! A great gesture from a stranger, and it was like it was meant to be. Shortly after we got on the boat, I went down on one knee and asked Chantale to marry me. She was shocked, surprised and I don't think she realized what was happening, she thought I was kidding. At that moment she realized that I was serious, her tired face lit up, and she was like a totally different person. The rest of our trip to Paris was just amazing.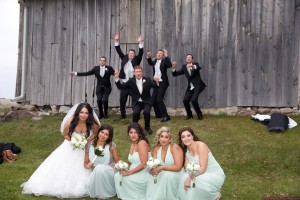 Our engagement was short, as we decided to get married in November of 2014. We had a great wedding, and amazing wedding party, and generally people had a great time. We picked St George Banquet Hall for our wedding venue. It is a beautiful banquet hall, and we chose a local decorator Betroth to decorate for us. For flowers we chose to use the service from a family friend who owns Raymond's Flower Shop in Waterloo.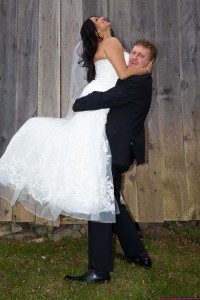 Bridal party's bouquets were amazing, and delivered to our house the morning of the wedding. Even a last minute request for an additional bouquet of flowers just before the mass at Blessed Sacrament Church in Kitchener was delivered faster than I've expected. After the mass, we had our pictures taken at a local farm. We wanted a bit of a different look, so one day driving by we decided to stop and ask if we could have our pictures taken. An older lady was ecstatic that someone decided to have their pictures taken at her farm, and allowed us to take photos there. Believe it or not, a year after our wedding, she called me and wished us happy anniversary, which was so sweet of her to remember.
We had great dinner at the hall, and after everyone was full, we had our speech. My excitement was showing, as I asked my friend; who brought 2 fog machines; to blast the crap out of the fog machines during my speech.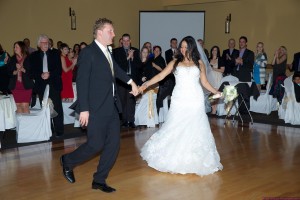 I am really happy and thankful that he brought the fog machines, and lights to make our night amazing and memorable for all our guests. At the end of the speech I had a bright idea to have the DJ play Jason Derulo's song "Wiggle" so at the end of speech I asked the crowd: "are you still hungry?" and there was silence.. next I said "since everyone is full get the butts on the dance floor and wiggle!!" while the DJ was turning the song on. It was my favorite song at the time, and fit perfectly. For our DJ services we chose to have a family friend from ThunderStorm Productions play awesome music. We are so thankful such a good support from our friends and families. Overall I think everyone had an amazing time. One of Chantale's friends commented that we throw great parties and she'd love to come for the next one we throw.
Our story continues to this day. We have been blessed with a beautiful son (Markus) in late 2015.